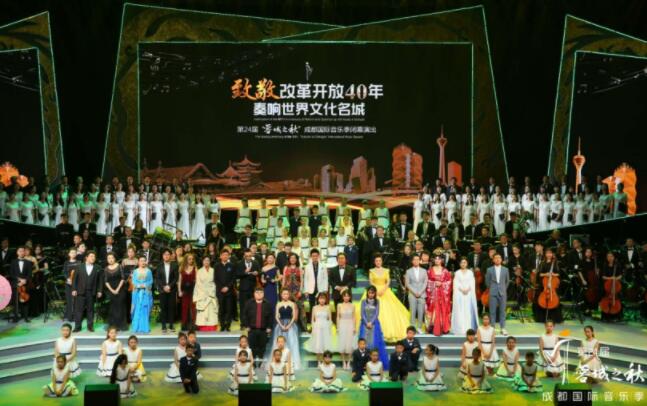 Guo Daiqin, a reporter from Hong Kong Business Daily, reported that on November 9, the "Golden Furong" Music Award Ceremony and the closing performance of the 24th "Rongcheng Autumn" Chengdu International Music Season were staged in Chengdu Shuangliu Stadium, Sichuan Province. From the opening of September 22 to the closing of November 9, in 48 days, the "Autumn of Chengdu" presented more than 200 music theme performances and outdoor music activities for Chengdu citizens to create a concert with the participation of the whole people and flourishing everywhere.
The second "Golden Furong" Music Competition aims at creating influential music competitions in China. With the aim of exploring music talents and encouraging music creation, it highlights the "Autumn of Rongcheng" as a city music business card. Through layer by layer selection, a series of winners have been born, and a large number of new talents have been sent to Chinese music.
In order to build the professionalism and authority of the "Golden Lotus" music competition, more than 20 authoritative experts in the field of music at home and abroad were invited to serve as judges. Marina Mikhailovna Labina, an opera singer from Russia, tells about the "golden lotus" in her heart. "It's a pleasure to be here with artists, singers and musicians from all over the world. Chengdu is a vibrant city. In a few days, I heard wonderful songs in the concert hall and met the simple singing in the street. Music ignited every corner of the city, lighting up the'autumn of Chengdu'.
With three chapters and three dimensions, the closing party integrates the past and the present, looks forward to the future and tells the story of Chengdu. To show the origin and cultural self-confidence of Chengdu's construction of world famous historical and cultural city by "Millennium Context". To commemorate the 40th anniversary of reform and opening up by "Happy Blooming". To show Chengdu's livable demeanor and the style of the construction of music capital by "Damei Chengdu". To explain Chengdu's diversity and inclusiveness by singing, dancing, playing and speaking. "Golden Furong" Music Award winners are invited to perform with Zuhai, Zheng Xulan, Wang Zhengliang, Dai Han'an, Ao Changsheng and other guests to show the charm of the music capital in a way with urban characteristics.
"Chengdu is livable, and life in Chengdu is leisurely." This is the 24th "Autumn of Chengdu City" Chengdu International Music Season, hoping that all the people who come to Chengdu will feel Chengdu's aesthetics of life. With dance, singing, symphony and other different forms of performance, accompanied by different styles of artistic expression, Chengdu-style life aesthetics is presented from various angles, showing the city style of Chengdu and the inheritance and development of modern Tianfu culture.
[Responsible Editor: Zhang Wei]