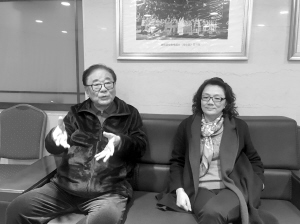 Jin Tielin and his wife
On the 7th, Mr. Jin Tielin, a renowned vocal educator and honorary Dean of China Conservatory of Music, came to Chengdu with his wife, vocal educator and doctoral supervisor of China Conservatory of Music, Ms. Ma Qiuhua, as the judge of Jin Furong Award. In an interview, Mr. Jin Tielin continued to praise Sichuan for its "good Miaoziduo" and "good voice duo". He said that Chengdu was building an international music capital, and that more platforms such as the Golden Lotus Award were needed to select and train outstanding talents.
Mr. and Mrs. Jin Tielin also believe that Chengdu has a rich musical heritage. To build an international music capital, it is very important not only to invite in, but also to go out and create unique music works in Sichuan. We should explore local music elements and local culture, let the world know, publicize Chengdu and Sichuan music. Come in and go out, please.
"Sichuan opera has a deep foundation, Sichuan folk songs are more pleasant, there are many minority music elements in Sichuan, Sichuan's music elements are very rich and diverse." Jin Tielin and his wife suggested that Sichuan Opera should be innovative in its inheritance. Without innovation, art will not have vitality. Chengdu is a natural international music capital, which organizes and combs Sichuan's own music, art and culture, builds it well and introduces excellent elements both at home and abroad.
Photographer Wang Lan of Chengdu Evening News