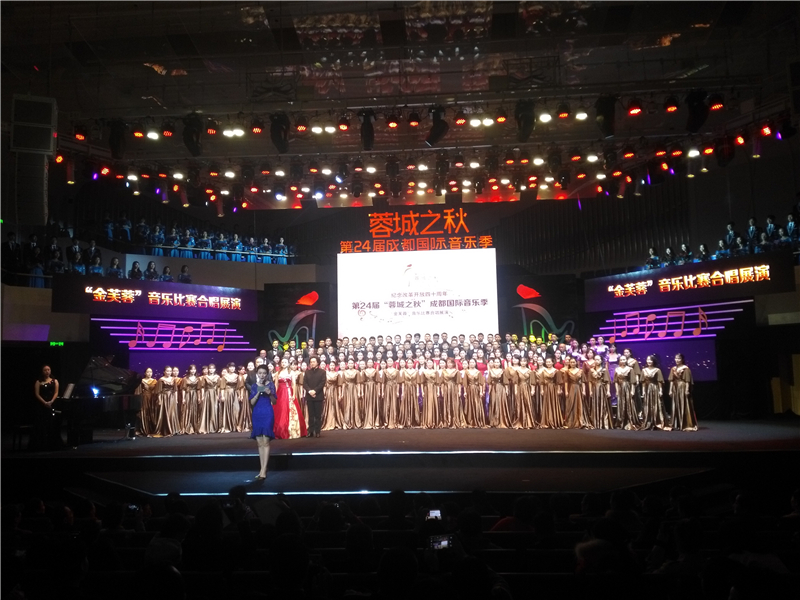 Sichuan News Network, Chengdu, Nov. 6, Nov. 5, Chongzhou Community Education College Teachers'Chorus (Chongzhou Muyin Chorus) was invited to participate in the 24th "Autumn of Rongcheng" Chengdu International Music Season Jinfurong Music Competition Chorus Show. Zhang Jianjun, Vice President of Chongzhou Community Education College, Ji Shuang, Director of Office of Education and Training Center, Luo Cheng, Director of Training Department, went to see off the pastoral chorus. President Zhang Jianjun told us that we must "sing the style of Chongzhou teachers".
In order to commemorate the 40th anniversary of reform and opening-up and promote the theme, the concert was hosted by Chengdu Culture, Radio and Television Press and Publishing Bureau, Chengdu Music, Film and Television Industry Promotion Office, Chengdu Business Daily and Sichuan Conservatory of Music, and performed at Yunduan Tianfu Concert Hall in Chengdu.
Chongzhou Muyin Chorus is a former Chongzhou Teachers'Chorus under the leadership and support of Chongzhou Education Bureau. The group was founded in 1994, mainly composed of music teachers in the city. In 2018, the group was assessed and enrolled, and reorganized into a pastoral chorus, which was carefully guided by a number of chorus experts. Over the past 20 years, they have actively participated in various performances or competitions and won many honors. They have made remarkable contributions to enriching the cultural life of citizens and promoting the cultural construction of communities. At the same time, they have also made positive contributions to the solid promotion of music education in Chongzhou primary and secondary schools.
That night, chorus teams from Chengdu, Xi'an, Inner Mongolia and other places contributed splendid programs. The Chongzhou Muyin Chorus performed the song Happy Snow Flower, and the singing conductor was Mr. Chen Tao, a young conductor of Sichuan Conservatory of Music, who won many awards for conductor in international and domestic chorus competitions. Finally, under the guidance of Mr. Chen Tao, the Chongzhou Muyin Chorus and other performing groups sang "I Love You, China" as the closing repertoire. (Ye Chengjun)
[editor: Lacquer]